Child Bereavement Support Malaysia
Child Bereavement Support Malaysia is founded by (Mrs) Sharanjit Kaur and co-founded by Dr Shubashini Kanagaratnam and (Mrs) Shamila Bashir. 
Having experienced child losses of their own, they realised the need for a support group in Malaysia as such a group was non-existent. United not only in sorrow, but also a strong desire to help each other navigate the grief journey in the most positive way possible. 
They started a closed Facebook group on 15th October 2019 in conjunction with Pregnancy, Infant and Child Loss Remembrance Day.
Child Bereavement Support Malaysia (CBSM) aims to be a support network by and for bereaved parents in Malaysia. We hope to offer support and friendship to anyone who has lost a child, regardless of age (from miscarriage to stillbirth, infancy to adulthood) and circumstance. We also aim to be a network that is open to all regardless of age, race, background as we understand that losing a child completely shatters and changes our own world.
It does not matter how recent or how long ago your loss was, we are here to offer you a shoulder to lean on and a listening ear to support you as you make your way through your grief.
In losing a child, we are confronted with our worst fears. Our world is turned upside down/inside out and nothing makes sense anymore. The fear is gripping & at times crippling. We understand this despair and we know first-hand that we each grieve differently – our grief is unique as our child is unique. 
So we each bring our unique sadness to the network and trust that we can borrow strength from each other for another day, another month, another year.  There is no time limit on how long we will grieve but we will be here as long as you need support.  Strangely, we never quite outgrow our grief, we just learn how best to live differently and eventually to find healing. 
There is definitely no 'correct path' to manage grief.  But there are tools and strategies we can use to help cope with everyday living.  With support from spouse, family and friends, life can be purposeful and fulfilling, and the memories of and dreams for our child can be cherished and appreciated.  
We encourage you to set your own goals and hopes for yourself, at some stage, and when you can.  We can help.  A simple aim can be "to live well again" and "wholistically". Some of us do eventually find acceptance, peace or personal closure.
CBSM aims to be an informal network of bereaved parents who have all found that meeting other bereaved parents is what has made the biggest difference to us, and given us the most support, the most hope and the most comfort. People grieve in very different ways but we have all learned through our own experience that parent to parent support is simply invaluable.
We are affiliated to Child Bereavement Support Singapore which has been providing support to parents in Singapore since 2004. We lean on the team in Singapore and borrow their strength and experience in our quest to bring some crucial support to Malaysian parents.  
Wishing everyone peace and love on this journey 💕
Sharan and her husband Aaron were parents to two girls – Aareesha & Aareena and were expecting their third child in 2016.
Their son, Aarjeet Jeev Singh Gill was born on 15th February and completed their family. However, the very next day, he was transferred to a neonatal ICU where after several rounds of tests, the doctors diagnosed him with complex congenital heart defects (CHD). He underwent an open heart surgery at 7days old and although the surgery was a success, he developed many post-surgery complications. 
He breathed his last on 19th March 2016 (age 33 days). 
Sharan and her family moved to Singapore a month later & while there she discovered Child Bereavement Support Singapore (CBSS) – a peer to peer child loss support group where she found tremendous courage and strength. She began to volunteer with CBSS later that year & now supports their monthly meetings as a facilitator-in-training.
In 2018, Sharan and her family welcomed a baby girl, Aareeya and although life is joyful, they miss their baby boy every single day.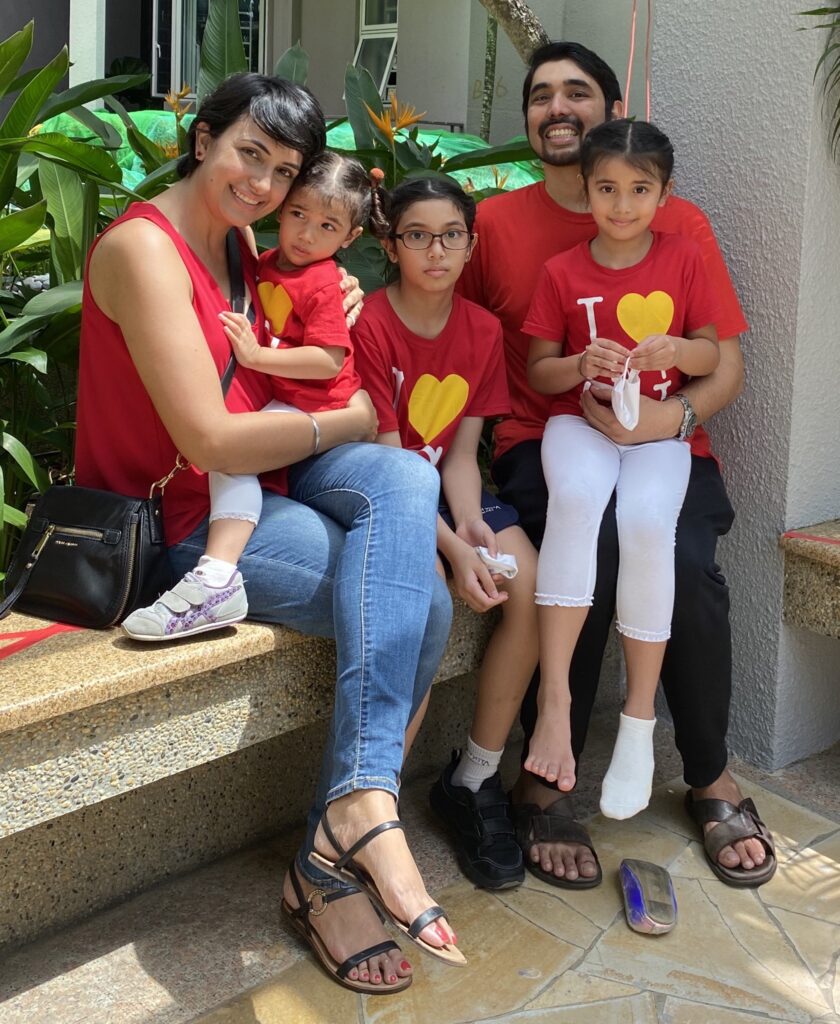 Dr Shubashini Kanagaratnam
We left the hospital with empty arms, saying hello and goodbye at the same time to our little boy at 23 weeks 5 days who was diagnosed with Trisomy 18 (Edwards Syndrome). He was incompatible to life, having a large choroid plexus cysts, large VSD and dextrocardia. Anticipatory grief we got to know, planning a send off before the arrival and coping with an impending loss enveloped our lives. 
This is my story to how we got started with CBSM ❤️❤️❤️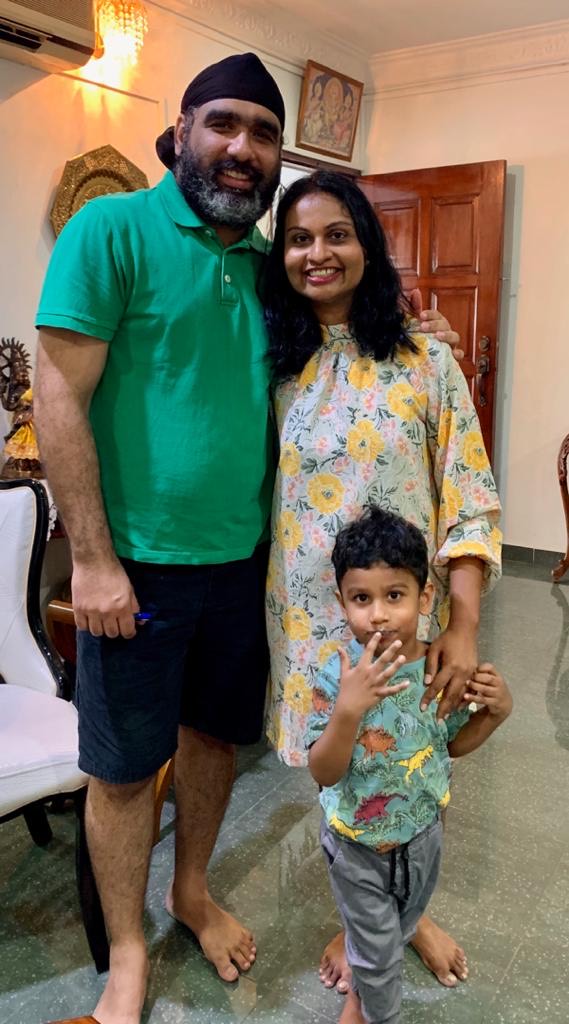 My name is Shamila, where I was a single parent to Shakirah Ariana, affectionately called Ariana.
I knew Ariana was on borrowed time when she was diagnosed with a very rare condition called Heterotaxy Right Atrial Isomerism when she was 4 days old. That said, the day I lost my only child then, to Heterotaxy, my heart was completely shattered. Ariana was only 4 ½ years old. Although I have never taken her for granted but I never realized it will be this short as Ariana was doing so well. We travelled across the world to 'fix' Ariana's heart. The journey to get these palliative surgeries in Malaysia and the US were hugely successful. With these surgeries, Ariana was able to play, run, swim, attended preschool, dance and drama school, loved the beach, her cousins and her friends, travelled around the world, even visited Disneyland @ Paris to meet her favourite princesses and did many more activities like a seemingly healthy toddler. I am grateful that Ariana lived to the fullest till the very end. And because of this, I wasn't expecting Ariana's life to have ended swiftly by blood septicaemia (blood poisoning).
In the years following my daughter's death, I discovered, no matter how great my loss, or how deep my grief, the world does not stop. In fact, it intensifies. I remember thinking… "How can I ever be happy again?" Putting your child in the ground changes you. I don't know how it could not.
In the years following, I became closer to God … Initially it wasn't easy but it got easier as I placed my forehead on the praying mat, and I poured my grief to God. My praying mat became my safe haven to empty the well of my sorrow, pouring tears to Him.
These days, I could let my heart and emotions rest. I have learned to be present and focus on what I am blessed with instead of things which I have no control over.
It's been almost 5 years since my beautiful daughter left this earth, I won't lie as I still do tear up when I talk about her. But it's all part of healing as my heart joyfully connects with the sweet memories of my Ariana. Healing doesn't mean you'll never feel the sadness. It means you'll be able to have memories without attributing extreme misery.
Truly, my Ariana is a story of eternal LOVE …  … not of struggle …. not of loss… SubhnaAllah! Till we are reunited again.
I will always grieve for my first child, Ariana, it does not mean my life is lacking of happiness and joy. A couple of years ago, my heart was opened to a new love. God brought me a wonderful man who loves me right through my deep grief as he patiently holds the pieces of my broken, tattered heart. Life is still messy and I am far from perfect. But piece by piece my life is turning into something incredibly beautiful as I learn to love harder, appreciate every single day even more and also experience far deeper and more intense joy like no other for I experience deep grieve.
Husband and I took in a baby boy a year ago, unfortunately had a miscarriage early last year and now, I am pregnant, naturally, and our lil lovebug is a baby girl!